For many years, Kilifi County has experienced low transition rates from primary to secondary and secondary to tertiary levels of education. Reports have placed it at a meagre 40% and enrollment of only 60% of children that have attained school going age, joining school in Kilifi North which is far below the required national standards.
This alarming reality prompted the area Member of Parliament Hon. Owen Baya to call for an educational stakeholders' meeting that took place on the 22nd March 2018 at Pwani University. The theme of the Kilifi North Education conference was 'No child is left behind." It attracted participants from government, civil society organizations, Community Based Organization, School boards of management, Principals, teachers, parents and other members of public. Kickstart Kilifi was in attendance, represented by its Director Henry Mkare.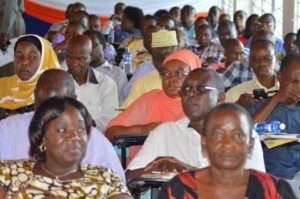 Participants at the conference
The occasion was graced by speeches from different leaders, ranging from the area Governor Amason Jeffa Kingi, The County Commissioner and County Director of Education. The participants were given a chance to highlight the major challenges ailing the Education sector in Kilifi North which they acknowledge it cuts across the entire County and the larger former coast province. They denoted that there are number of issues that explains the low transition rate, high school drop outs cases, low completion rates and low enrollment in Kilifi. These factors include:
Poverty as a majority of the population cannot afford to pay for the required school cost. This has led to many students dropping out of school. High rates of teenage pregnancies has, also, forced many school-going girls to leave school in order to take care of their children. An issue the area Governor condemned in the strongest terms possible after it emerged Kilifi County is distant first in teenage pregnancies cases nation-wide, others being lack of inadequate infrastructure in schools both human and physical and poor methods of teaching, Furthermore, a negative societal perception on matters education especially on the girl child education has not made the situation any better.
The Member of Parliament in his address highlighted the four key pillars of No child is left behind initiative which are;
Access to education and Transition rate.
Performance in science and mathematics.
Performance in National Examinations.
Management and Leadership of learning institutions.
Hon. Owen Baya addressing the participates.
The area governor blamed the national government on what he termed as deliberate marginalization of his county by Teacher Service Commission due to the huge deficit of teachers in Kilifi schools compared to other counties.
After a fiery discussion and deliberations the stakeholders unanimously agreed that Blame games wont aid the region to achieve the goals of No Child is left behind initiative. They therefore went on to give several recommendations, among them:
Mentorship and motivational talk in schools.
MP to talk with TSC to post more teachers to Kilifi North schools.
Each school to be assigned one professional from Kilifi North beside the BOM chair to be handing in a report to the MP on progress, challenges etc.
Lobby and look for donors both locally and international to aid in putting down school infrastructure.
Sensitizing parents to have a positive attitude towards the education of their children.
Ensure fairness in allocation of bursaries.